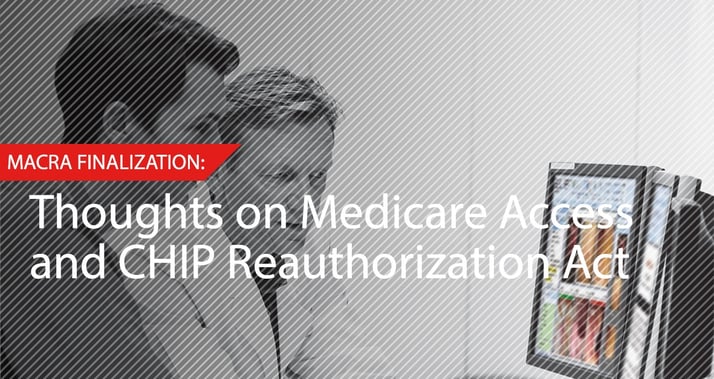 Background:
In July, Centers for Medicare and Medicaid Services (CMS) proposed reducing the electronic health record (EHR) "meaningful use" reporting period from a full year to 90 days for clinicians, hospitals, and critical access hospitals for calendar year 2016. Medical professionals and EHR vendors who had lobbied for this change applauded the proposal, eagerly anticipating the increased flexibility needed for quality reporting as facilities adopt new technology, payment models, and care delivery systems.
The start of this month marks the beginning of the final 90-day reporting period in calendar year 2016. As the 90-day reporting period policy has yet to be finalized, the American Medical Association (AMA) and various other medical organizations have submitted a letter to CMS chief, Andy Slavitt, asking him to expedite the process. This will eliminate the need for CMS to grant hardship exemptions to providers, as was the case in 2015 given the delayed finalization of the same policy.
Thoughts on MACRA (Medicare Access and CHIP Reauthorization Act):
In addition to the 90-day reporting rule, physicians have made their opinions known about the changes that will go into effect once MACRA is finalized. MACRA aims to marry quality-based reimbursement with demonstrated meaningful use of specific EHR technologies. The proposed law and dramatic changes it will effect have elicited 4,000 formal comments from concerned medical providers and healthcare organizations.
Healthcare Finance interviewed Andy Slavitt, who believes MACRA will enable physicians to "do the job of being a doctor." Slavitt noted three main themes in his conversations with physicians regarding the law:
Demand for patient-centered quality care with bonus opportunities for participation in certain payment models
Request for more autonomy and flexibility in practice
Request for streamlined and simplified quality measures (Slavitt reports that CMS has already decreased the number of quality measures by a third in MACRA.)
Slavitt recognizes that physicians are "already feeling overworked." He also acknowledges that MACRA may be difficult for smaller practices to adopt, as their staff and financial resources prohibit them from implementing the technology required by MACRA for meaningful use reporting.
According to a Blackbook Research survey from May involving 1,300 physician groups of five clinicians or fewer, 67% of high Medicare-volume doctors predict that their autonomy will be compromised as a result of MACRA. Furthermore, 89% of solo practices anticipate shrinking their Medicare patient volumes to avoid becoming inundated with MACRA paperwork. Slavitt counters these views by highlighting ways in which MACRA will diminish the reporting burden for small practices. For example, CMS will use previously stored clinical registry data it already has, preventing physicians' re-submission of the same data.
How Should Physicians Prepare?
Slavitt lists four ways to prepare for MACRA implementation:
Consider participating in alternative payment models (e.g. bundled payments), which offer financial incentives and decrease the need for reporting under MACRA.
Become comfortable with electronic health records, which are a MACRA requirement.
Receive recognition for current practices by exploring the list of 90 activities (e.g. expanding office hours) that earn rewards under MACRA.
Prioritize learning about quality measures.
If MACRA is finalized in November as planned, providers will likely need to implement practices by January 2017.
How Should the Nation Respond After MACRA is Finalized?
According to Slavitt, MACRA implementation could be delayed. Once the law is finalized, Slavitt believes the nation must work toward the following goals:
Improve technology to meet the needs of physicians.
Increase the number of payment models physicians can join.
Keep abreast of the "latest innovations in medicine."
Conclusion:
While physicians await the finalization of the 90-day reporting period and the implementation of MACRA, several steps can be taken to ensure a smooth transition to using these new practices without compromising patient care or physician productivity.
References:
Monegain, B. "CMS calls for 90-day reporting in 2016, easing Stage 3 EHR objectives." Healthcare Finance. July 7, 2016. www.healthcarefinancenews.com. Accessed September 16, 2016.
Powderly, H. "Medical Group ask CMS chief Andy Slavitt to finalize 90-day EHR reporting." Healthcare Finance. August 22, 2016. www.healthcarefinancenews.com. Accessed September 16, 2016.
Sanborn, B.J. "Enter MACRA: CMS chief Andy Slavitt says new law lets doctors be doctors." Healthcare Finance. July 18, 2016. www.healthcarefinancenews.com. Accessed September 16, 2016.