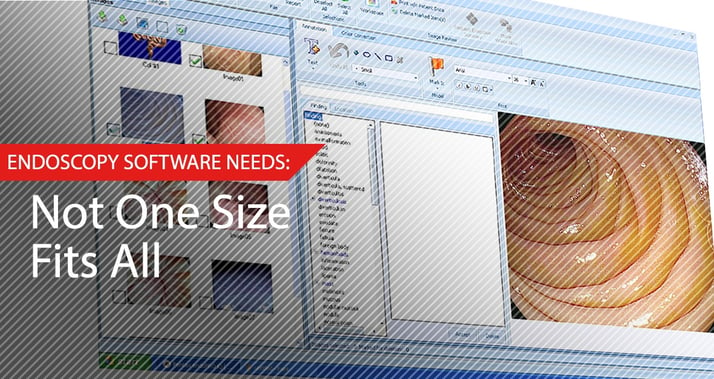 When it comes to ambulatory surgical centers (ASCs), community hospitals, and teaching hospitals, there are many differences, including types of patients and severity of health conditions, priorities of the staff, types of procedures performed, and types of medical equipment needed. And this is true of all therapeutic areas, across the board; one would not expect a quadruple bypass surgery to be performed at an ASC and one would not require a top cardiology hospital to treat a sprained ankle. Similarly, there are certain levels of endoscopy procedure best suited and often performed in each of these settings, and the endoscopic equipment and software needs of each can therefore be very different. The following are general examples of the differences in each of these settings—while there are certainly exceptions to the rules, following is a common overview of what to expect from endoscopy in each environment:
Ambulatory Surgical Centers
Types of procedures—Patients who are referred to ASCs generally require basic procedures and are not severe or emergency cases. Endoscopists here often perform basic EGD procedure and colonoscopies, with maneuvers including biopsies, ablations, thermal therapy, hemorrhoid banding/clipping, polypectomies, and injections. They generally do not perform PEG placement removals, paracentesis, manometry, liver biopsies, BRAVO capsules, fecal transplants (FMT), stent insertions/removals/exchanges, EUS, ERCP, or Endoscopic Mucosal Resections (EMR). Additionally, ASCs do not handle pediatric or pulmonary cases.
Priorities of staff—Because ASCs are outpatient facilities, they have limited staff compared to 24-hour hospitals, and set limited business hours. This smaller scale means ASCs often use paper-based systems or small electronic medical records systems for documentation. As privately owned companies, speed and efficiency are factors.
Endoscopic needs—With the types of cases and the needs and priorities of the staff in mind, it's easy to extrapolate about what the endoscopy software needs might be. Staff at ASCs need software that can seamlessly track a patient's journey from arrival to discharge, with templates that are intuitive and easy to fill in as physicians perform the same basic procedures again and again.
Community Hospitals
Types of procedures—Endoscopists at community hospitals can perform a wide variety of procedures; in this environment, the level of complexity is irrelevant.
Priorities of staff—Because community hospitals are not privately owned like ASCs, there is a wide variety of stakeholders to which the staff must answer, including shareholders and a Board of Directors. Community hospitals must also answer to regulating bodies, including the Joint Commission on Accreditation of Healthcare Organizations (JACHO), with compliance monitored by Medical Records and Health Information Management (HIM).
Endoscopic needs—All of this regulatory and shareholder oversight results in a need for meticulous record keeping. A good endoscopy software for a community hospitals is one that lets the physician easily create and edit reports, customize reports, and offers the ability to make changes after the note has been finalized. Additionally, because hospitals run 24/7, there is a need for software and endoscopy equipment that can be used on a travel cart, with the ability to work offline, to accommodate for the fact that there may be hundreds of procedures in a 24-hour period, day or night.
Teaching Hospitals
Types of procedures—Like a community hospital, a wide variety of endoscopy procedures can be performed at a teaching hospital. The main difference is that teaching hospitals use fellows, medical interns, and nurse residents, who are all medical professionals in training.
Priorities of staff—Here, the priority of the senior staff is to make sure that the fellows and residents are learning—in this case, learning how to perform endoscopic procedures. Fellows are rated on how much they've accomplished during their residency, so reports of procedures they have performed on their own are very important. Both speed and flexibility are the keys to success at a teaching hospital; doctors want to go through cases quickly so their students can learn through multiple repetitions of procedures.
Endoscopic needs—Fellows are usually tasked with documenting the procedure for the doctor. The fellow will fill out the entirety of the report and sign it themselves. The doctor will review the report later, make changes and sign the document again. Spending twenty minutes on documentation is not worth their time or the time of the fellow. In addition, the doctor will undoubtedly be making substantial changes to the documentation after the fellow has entered his/her information into the endoscopy software. It is therefore crucial to have a software program that allows doctors to access signed notes hours – possibly days – after the procedure has ended; knowing that they have the ability to make sweeping changes to the report without causing problems with reporting or compliance. Video features in software for learning is important in this environment as well.
What's needed, then, is a software solution that is flexible and customizable enough to excel in all of these environments. The most adaptable software would offer are features such as the ability to manage patient scheduling, track patients from arrival to discharge, capture and annotate procedure images and video, generate detailed procedural reports, produce advanced analytics relevant to clinical and operation improvement, and integrate, receive and store information within hospital EMR. endoPRO iQ is a comprehensive information management and image capture system that supports all stages of an endoscopy suites' clinical workflow, streamlining patient care and operation performance. Completely customized to meet any of these unique environments, endoPRO reflects a dedication to providing users with an information and image management solution that maximizes turnaround time and optimizes operational efficiency.