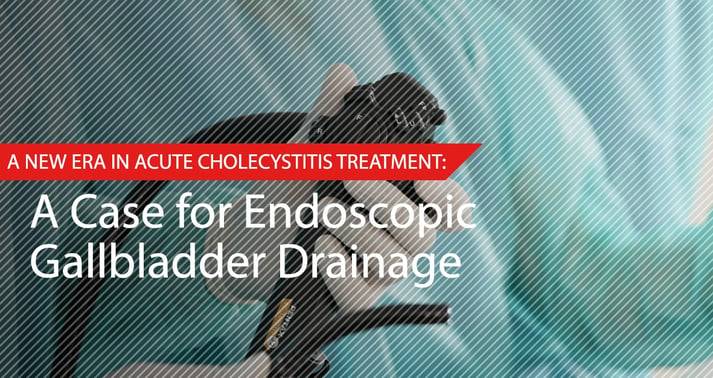 Background:
Acute cholecystitis, most frequently caused by gallstones obstructing the bile ducts, is one of the most common GI emergencies. Management guidelines established in 2013 call for early or emergency cholecystectomy as the treatment of choice. In high-risk patients whose comorbidities raise their mortality rates from cholecystectomy, temporary treatment regimens such as percutaneous transhepatic gallbladder drainage (GBD) are implemented instead.
Once used as a strictly palliative technique, endoscopic transpapillary GBD, including EUS-guided naso-gallbladder drainage and EUS-guided gallbladder stenting, is now being used as an alternative therapeutic option for gallbladder decompression.
Standardization of EUS-GBD Procedure:
Both a high technical success rate and a low adverse event rate are necessary before a treatment can be standardized. To achieve a high technical success rate similar to that of percutaneous transhepatic GBD, EUS-GBD must be performed on a large target (i.e. gallbladder) using a shorter access route (i.e. distance from GI tract to gallbladder). Unlike percutaneous transhepatic GBD, which is usually performed by radiologists, EUS-GBD involves internal drainage, rendering it less invasive and the preferred procedure for those with interventional EUS expertise.
Adverse event rates are lower with non-surgical GBD than with percutaneous transhepatic GBD, the latter of which is a multi-step procedure that confers a 10% adverse event rate (though major adverse events are rare). Post-ERCP pancreatitis is a concern with endoscopic transpapillary GBD, although severe cases are rare.
Bile leakage and stent migration are two procedure-related concerns with EUS-GBD, although advances are being made to mitigate these risks. The EUS-guided, free-hand, single-step stent placement procedure uses a cautery-tipped stent delivery system without any needle puncture. Furthermore, the risk of stent migration with EUS-GBD is essentially eliminated with the use of biflanged lumen-apposing metal stents with diameters ranging from 10 mm to 15 mm.
Evidence-Based Practice:
Currently, there is a dearth of high-quality studies comparing the safety and efficacy of endoscopic GBD with that of percutaneous transhepatic GBD. One 2016 study by Khan et al., the first systematic review on the topic, deemed endoscopic GBD to be a safe and effective alternative treatment for acute cholecystitis in patients who were poor candidates for surgery. In fact, endoscopic GBD was found to be safer than percutaneous GBD while achieving a similar technical success rate. This review is limited, however, as it compares a large number of endoscopic GBD studies to a relatively small number of percutaneous GBD studies.
Khan et al. also found the clinical and technical success rates of EUS-GBD to be superior to those achieved with endoscopic transpapillary GBD. Adverse events with EUS-GBD were more likely when a naso-gallbladder drainage catheter or plastic stent was used than when a metal stent was utilized.
Conclusion:
The use of endoscopic gallbladder drainage, particularly EUS-GBD, is superior to percutaneous transhepatic GBD, as the safest and most effective procedure for the treatment of acute cholecystitis, if the single-step stent delivery system can be used. Large, high-quality studies are needed to establish the superiority of EUS-GBD and lead to its widespread adoption by endoscopists and ERCP experts.
Reference:
Itoi, T. "New era in acute cholecystitis treatment: encouraging results for interventional endoscopists." Gastroint Endosc 2017; 85(1): 88-89. http://dx.doi.org/10.1016/j.gie.2016.07.039. Accessed January 12, 2017.